SPUD's JPIA Day Celebration Draws Success Amidst the Pandemic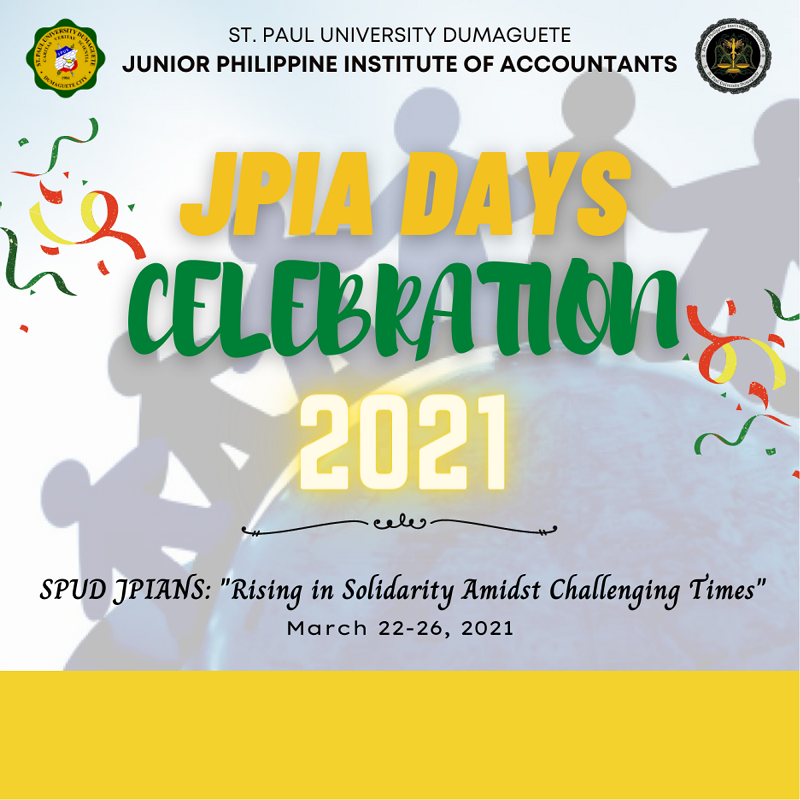 Over a hundred of students participated in the JPIA days celebration organized by the Junior Philippine Institute of Accountants (JPIA) of St. Paul University Dumaguete on the 22nd to the 26th day of March year 2021 with the theme "SPUD JPIANS: Rising in Solidarity Amidst Challenging Times".
The annual JPIA days in St. Paul University Dumaguete is a non-academic event which aims to uplift academic and cultural excellence within the organization and to promote camaraderie among its members.
The organization is being established to develop its members as responsible, well-rounded individuals. It is likewise instituted to promote, to organize, and to coordinate activities for the welfare of the students and to nurture them not just a good student in their respective campuses but to their community as well.
JPIA aims for solidarity and harmony among its members. It also aims to involve the members in all its activities by ensuring their active participation from the planning to the implementation stage.
The said activity started in the 22nd of March with a morning praise to ask for guidance from above that the activity will have its success. The members are divided into 4 groups namely: Faith, Peace, Love and Hope for them to communicate well with each other.
The organization will not be complete without having different competitions that was given to the members. The activities include: Photography Contest, Best Meme, Radio Drama, TikTok MV Parody, Song Writing Competition, Study Tips Vlog, Online Accounting Quiz Bowl, FB Frame Competition, and Mobile Legends. The officers also conducted a Webinar entitled, "CPAs during the Pandemic" with Ms. Doriza Gerogalin Eumague, CPA, the PICPA- Negros Oriental Chapter as the resource speaker.