CBIT WEEK 2023 : "JOURNEYING TOGETHER FORMING HOLISTIC BUSINESS PROFESSIONALS"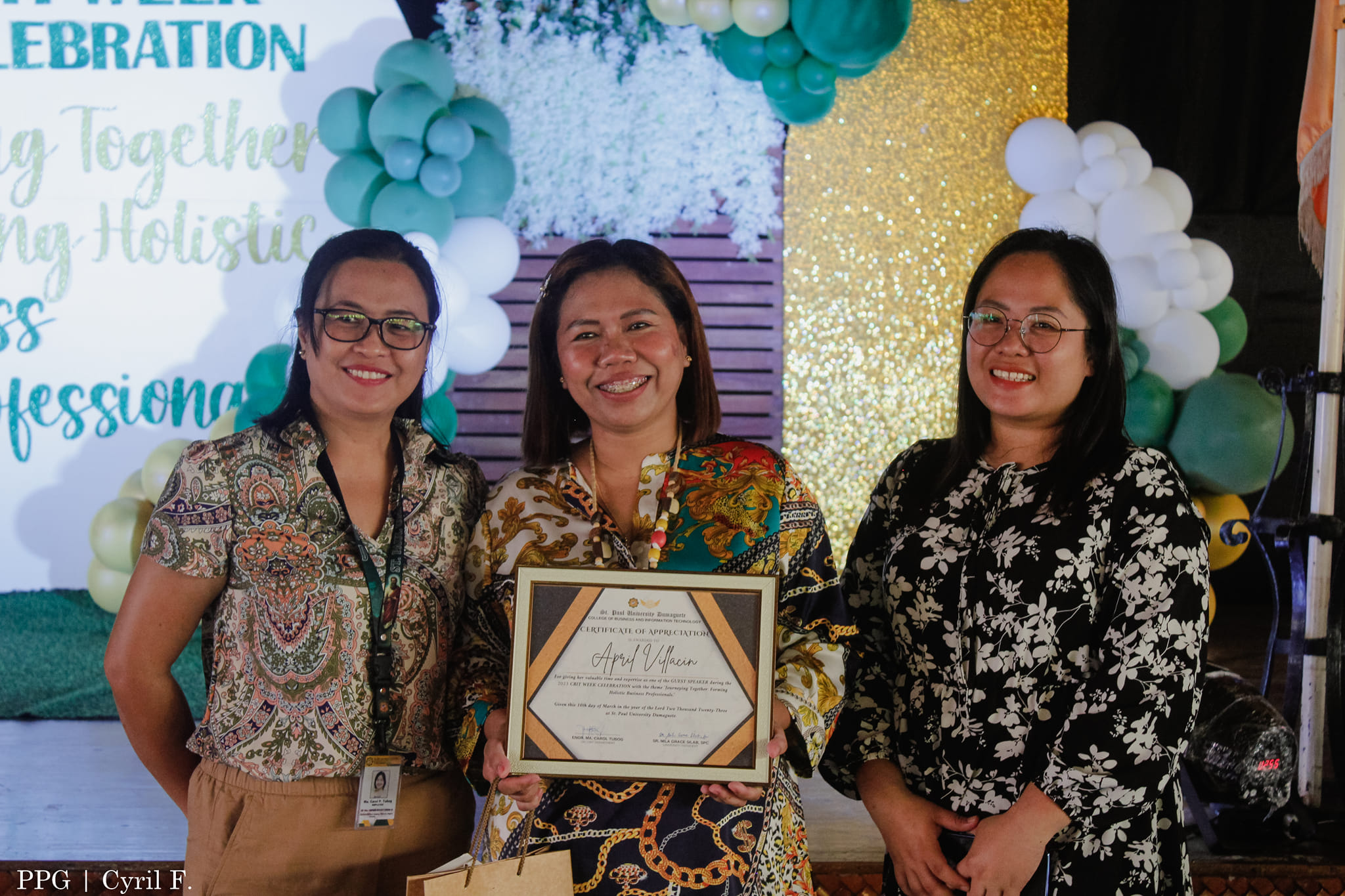 But wait! The fun doesn't just end with the conclusion of the morning events!
The CBIT WEEK 23' Celebration resumed in the afternoon with a HashTALK from our guest speaker Ms. April Villacin (VA Mentor and Self-Development Coach) where the Business Builders where taught on how to become competitive workforces in the modern business world.
Insights, opinions, thoughts, and questions were shared among the students and Ms. Villacin talking about how we can sell our selves and market one's own skills to become successful businessmen and entrepreneurs.
After the talk, a token and a certificate of appreciation was then granted to the aforementioned speaker, to give grattitude and honor for sharing her time and expertise and being one with the Paulinian Business Builders during the departamental celebration.
An intermission number then followed after and then the awarding of winners from the various events held awarded by Engr. Ma. Carol Tubog (Dean, College of Business Information Technology) and Ms. Joanna Rose P. Deciar, CPA (Overall Teacher Coordinator of the CBIT WEEK '23).
To conclude the program, a warm and heartfelt closing remarks was made by Nena Receldiana Cafe Ramirez (CBIT GOVERNOR).
The celebration ended with an AGAPE, where various food and delicacies were shared among teams, committees, and teacher coordinators. 
A photo opportunity took place for the different teams and working committees to share and cherish this wonderful and successful event.
Truly, the Paulinian Business Builders lived up to their valued and proved to each and everyone, that we are not just Paulinian Business Builders, we are one family and just like our symbol, the golden watch, we always go for gold.
Padayon Business Builders!
Go CBIT!
#CBITWEEK23
© Mr. Cyril Fabro